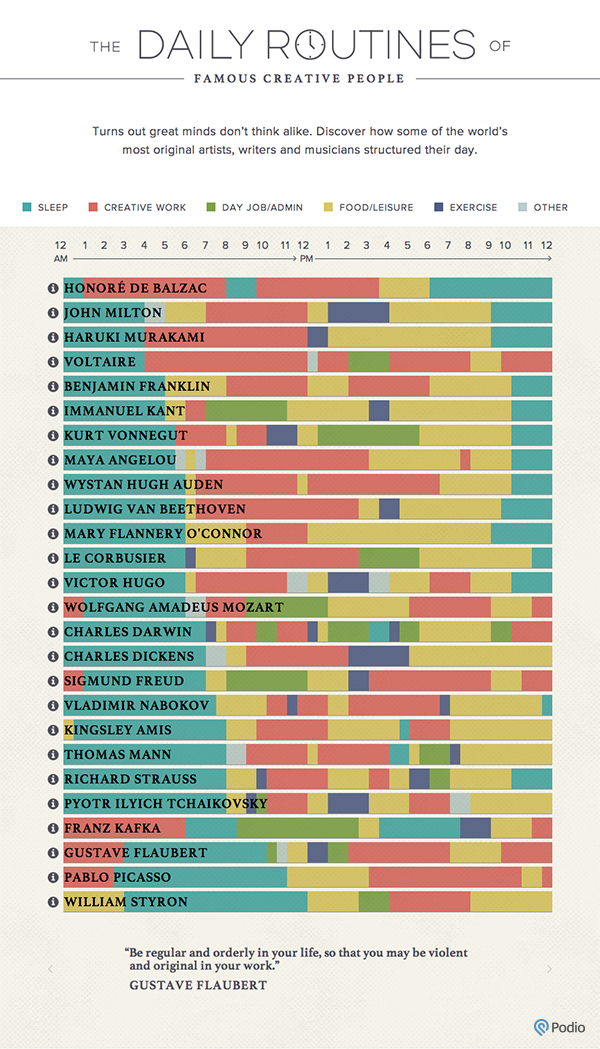 If you're creatively driven, it's likely that you often find yourself balancing multiple kinds of work–academic, professional, creative–within all of the other general administrative tasks that people tell you are important (like eating, grooming, taking care of your pet, actually seeing friends). If you're like me, you hear fairy tales about Stephen King and his 10,000 words-per-day habit, or Mark Danielewski, who apparently hustles through a 10 hour workday: two for running, four for writing, four for editing that same work, presumably with sporadic breaks for daily minutiae. Of course, those two writers are paid for their work and are no longer students, so their balancing acts are slightly less aneurism-inducing than mine and many of yours.
Lucky for you (and me), you can check out this interactive depiction of the lifestyles of a handful of creative persons. Simply choose your favourite artist, emulate their lifestyle, and you'll be swimming in Nobel Prizes by year's end. Well, maybe not, but there is some good news for aspiring creative-types: the secret to success seems to be lots of sleep, lots of leisure time, and no day job. So, drop whatever you're doing and start crafting, then take a cat-nap and go see a movie; it's what Beethoven would have wanted.
And for the record, Victor Hugo has become my new spiritual ancestor: daily ice baths on the roof sound like just what everyone needs, but not what they deserve.
Related articles